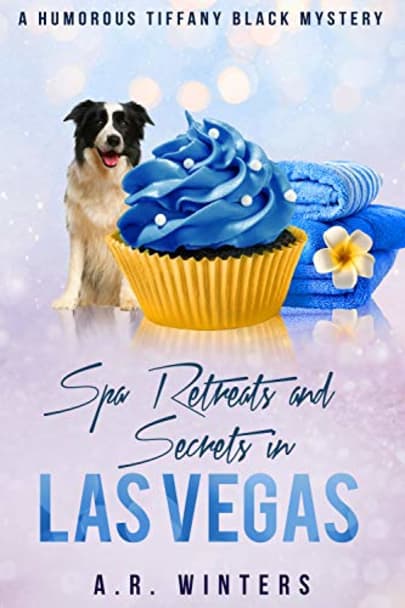 A Cupcakes-and-Crime Caper
"I didn't kill her, I swear!"
Fresh off a shift of slinging cards, blackjack dealer and private investigator Tiffany Black takes a frenzied call from Mary Bilford, the services manager at ritzy Spa Renauld.
Mary needs someone to prove she didn't kill spa client Gina Welling—which means it's time for Tiffany and Ian to go undercover and infiltrate the spa.
"Winters will have you giggling into your book!"
Who stood to benefit from Gina's death? Was it ex-husband Harry, who was coincidentally visiting the spa while his ex-wife was there; nurse Jasper, who's intent on looking out for himself; or even part of the spa's security detail? Or was it Mary Bilford all along, concealing her ulterior motive, just as the LVPD suspect?
Of course, once Nanna learns of the investigation happening in the swanky spa, she insists on joining them! Ian and Tiffany make a new four-legged friend, and Ryan has an important message for Tiffany...
Meanwhile, someone at the spa is out for blood... will Tiffany survive being in the den of the killer?
More importantly, will Tiffany survive the ridiculous beauty treatments she's being subjected to?
This is a cozy mystery featuring a strong female protagonist, some unusual friends and family, and a mystery that needs solving! It has no graphic gore, bad language, or sex. Perfect for fans of Janet Evanovich, Jana DeLeon and Hope Callaghan.
Praise for A.R. Winters:
"You fall in love with Tiffany Black from the start, and the mystery starts immediately" - Melissa Greenberg, Amazon.com Top 500 Reviewer

"The perfect balance of being lighthearted, but still a serious page-turning mystery." - Jaycie D, Amazon.com

"A great mystery wrapped in humor and surprises." - Amazon Customer